Look though and save these boudoir poses for female, couples, brides, pregnant women, and boudoir photo poses with props. Having a big boudoir poses guide will help you drastically increase your sales and the number of clients.
40 Best Boudoir Poses
Even the most experienced photographer can make a mistake and take vulgar photos that look cheap. Therefore, it is necessary to be very careful and attentive with boudoir photo poses.
1. Arched Back Pose
If your client has a flexible body, she can create a beautiful back arch. In addition, you may ask the girl to put her hands behind the head.
2. Emphasis on the Back
This pose is quite simple but very intriguing at the same time. A glance over the shoulder with slightly bent knees can make the focus more artistic. I advise you to keep a pillow under the arm for better effect.
3. Double Reflection
This is one of the best boudoir photo poses to show both sides with an emphasis on her back, as well as the ability to add intrigue and emphasize the body bends.
4. From the Top Point
Such boudoir poses are perfect for girls with any figure. Photographing from the top point helps hide the belly, visually enlarge the breast and demonstrate beautiful eyelashes and long flowing hair.
5. Sitting on Bent Knees
This is one of the best boudoir poses that will please everyone because it gives more sexuality to the picture and also makes a woman feel strong and frisky at the same time. The girl looks dangerous and serious when looking into the camera. Head lowered to the side will add some mystery.
6. Focus on Face
This pose can show the beautiful face of a woman, while the rest of the body is blurred. Such boudoir photography poses are often used to hide body flaws, especially when using shadows and background blur.
7. Pre-Wedding Nudity
Such boudoir poses are good to emphasize the upcoming event, showing the naked silhouette and highlighting all the curves of the girl's body. Just cover your model with a veil and start creating magic.
8. Sitting in a Chair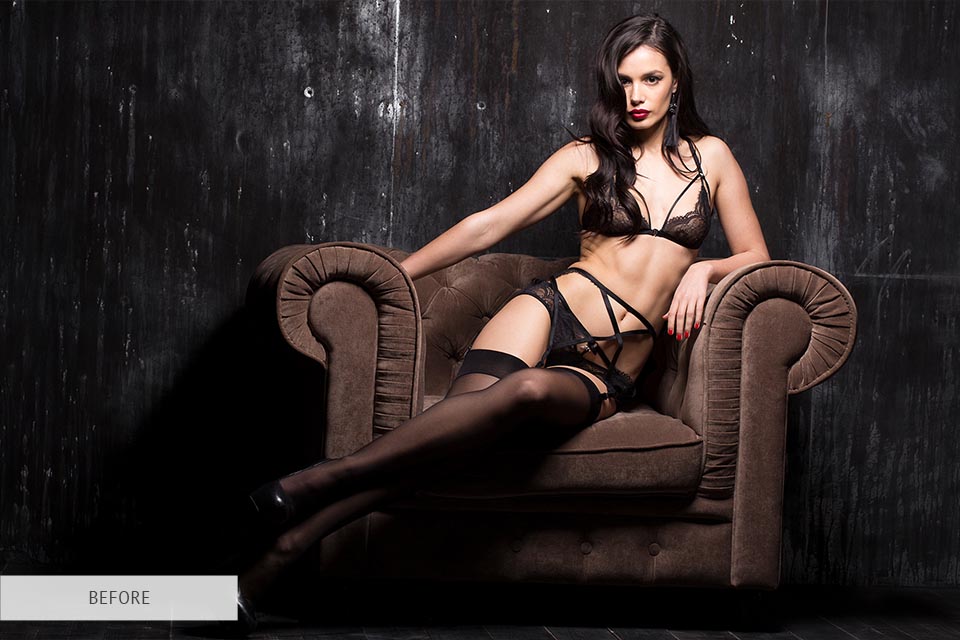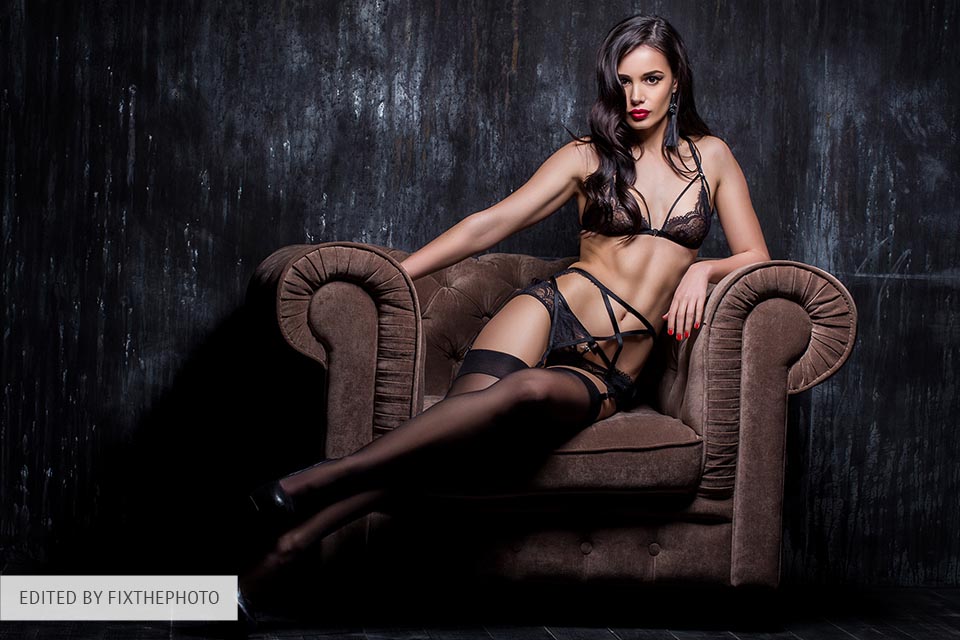 A chair helps add some texture to the shots. You can ask the model to sit down and press her lower body against the back edge of the chair.
The back should be bent, and the chest will be raised up. However, you may experiment, change the angle radically, and place the model with the chair on the floor.
9. Lengthen Your Model's Legs
Ask your model to place her legs closer to the sofa and lift the upper leg. It will create a tempting bend of the hips. Use this boudoir pose when photographing women on sofas and beds, or even on the floor.
10. Close-Up Shots
Do not neglect close-ups. Many girls are quite modest to show their body completely. Make beautiful accents on the hands, legs, chest, or hips.
11. Only Hair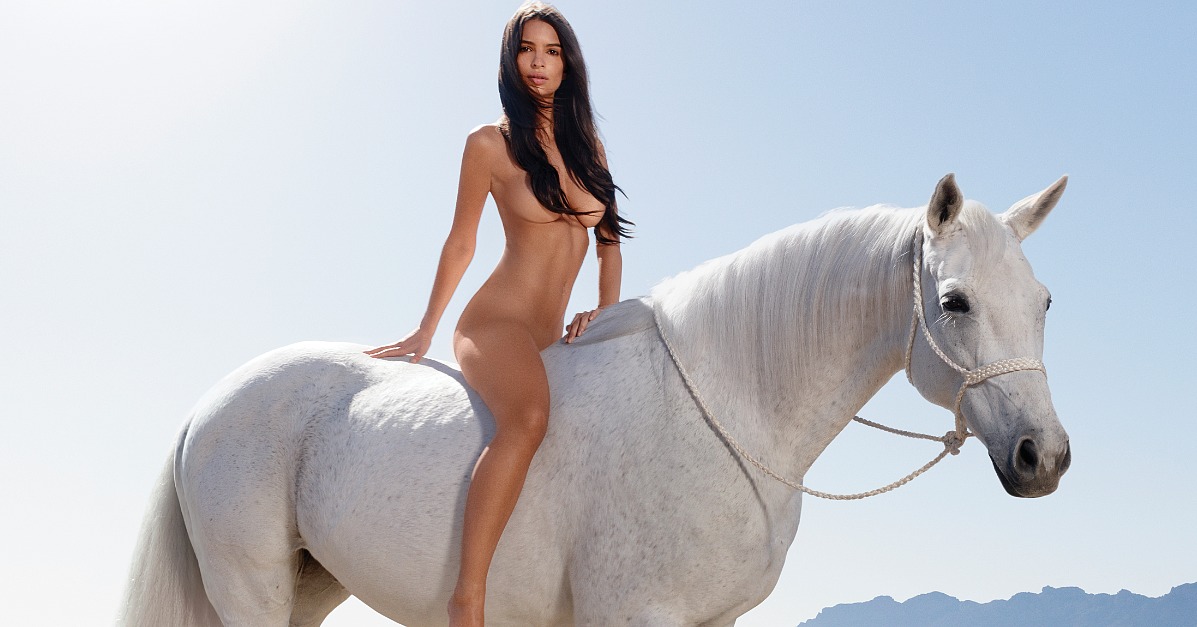 Owners of long hair will love such sexy female poses. For example, ask a girl to lie down and bend her knees. Cover her breasts with hair.
Such a pose will help you demonstrate body bends and attract attention to the hair. If the model has some tattoos, it is a good opportunity to show them.
12. Leaning Against the Wall
When your model is leaning against the wall and stretching her body up, she becomes more elegant. I advise you to use a single light source on the side or above the model to hide flaws with the help of shadows.
Do not worry if you cannot hide all the problems. Everything can be fixed in Photoshop.
13. Legs Up
This is the classic pin-up photography trick, and one of the most popular sexy woman poses. It helps make the body slimmer, lengthen the legs, and hide the belly.
A model can look into the camera and be full-length in the frame or you can focus only on the lower part of her body.
14. Show the Footwear
I think that you need to show a woman's favorite shoes and focus on them when taking boudoir pictures. This approach is suitable for wedding photo shoots and for models who love their legs.
15. Creating a Silhouette
Place your model in front of a light source in order to achieve an exclusively dark silhouette that will fascinate and make the viewer fantasize.
I think that sitting on the window is an ideal option, and if it is high, the boudoir model can stand on a window-sill.
16. Photos in the Water
Placing a model in the water is one of my favorite boudoir photography poses. You can use a shower, a bath, or even a lake for the most daring girls.
17. Shooting from a High Point
Those, who have "appetizing" shapes will definitely like this pose as it allows making a model more slender while focusing on her face, but not on the body.
18. Bent Knees
Place your model on the bed or the floor. If the girl is embarrassed about her belly, let her bend the knees. This is one of the most successful plus size boudoir photography poses, it can be used for all women, regardless of their body type.
19. Lying on Back
This is the classic pose for boudoir pictures, which will suit any girl and allow you to create an artistic picture with many additional accessories.
20. Sliding Off the Bed
Sloppy sliding off the bed will allow you to take an amazing picture and show the model's long legs, belly and arms. At the same time, this type of boudoir poses emphasizes girl's flexibility.
21. Try Body Painting
This is one of my favorite boudoir photography poses when I need to use the model's body as the artist canvas. This is a great idea for those, who are all about art projects and colors interplay.
22. Play with Shadows
One of the most creative boudoir posing ideas is to use shadows. This way you can add both an artistic effect and a mystery to the photo. It is possible to use the shadow of blinds, various objects or stencils.
23. Change the Focus
It is not necessary to focus only on the models' body. It will be interesting to give emphasis to her clothes while the model is out-of-focus.
24. Shoot Outside
If the weather is fine and you know a picturesque place, why not take advantage of it? The main thing is to be sure that people will not suddenly appear at the location.
25. Try a New Look
One of the most useful boudoir photography poses tips is to try a new look which is unusual for everyday life. Recommend your model an outfit from ancient times or from her favorite movies.
26. Morning Tenderness
You can create a delicate scene of the couple's morning waking up. Moreover, it is not necessary to shoot only in bed. Capture the moments of how the lovers are cooking breakfast, making coffee or washing the dishes together.
27. Joint Leisure
You can take amazing boudoir poses while watching lovers in their everyday life. This may be the moment of a sudden kiss or when they are just fooling around and playing with each other.
28. Mysterious Nudity
If your models are daring and emancipated, you can offer them one of the most provocative boudoir photo shoot poses when their naked bodies intertwine with intimate places covered.
29. With a Hint of …
Another variant is a hint of intimacy. The couples often want to have such photographs in their bedroom. With a good photographer, there will not be a hint of vulgarity, but only intimacy.
30. Bodies Only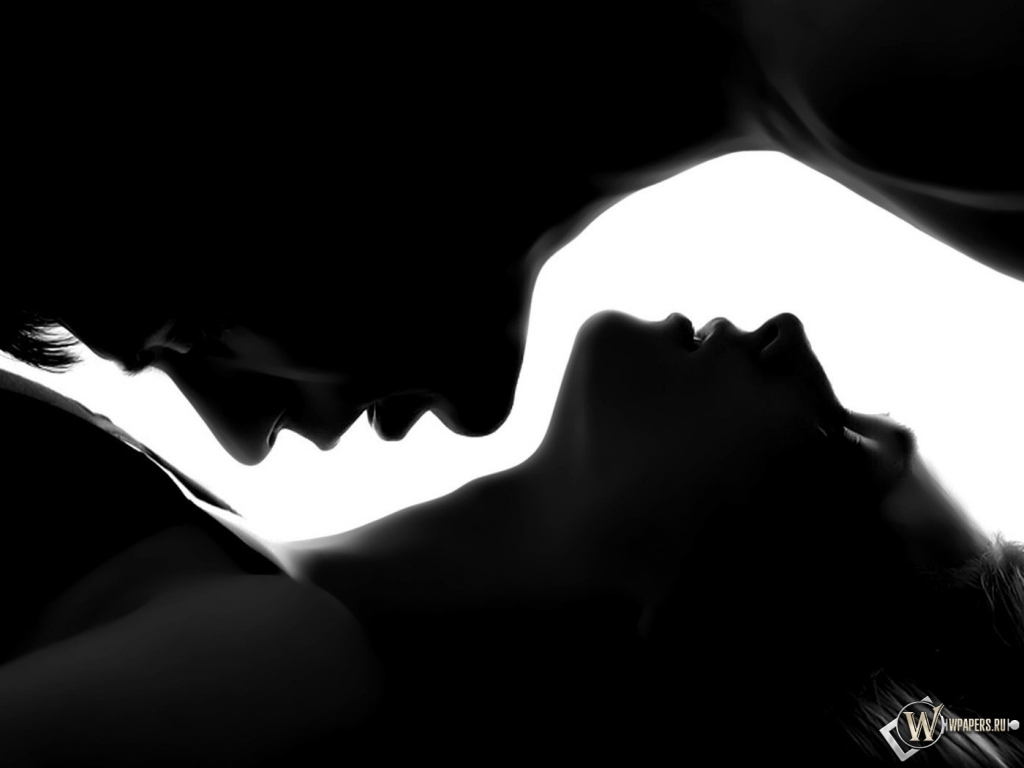 In such cases, photographers usually capture only silhouettes in the shadows. It is also possible to take photos from the closest distance to capture certain parts of the body. You can also take a shot where the heads are not visible.
31. In His Shirt
You can shoot a pregnant woman in the favorite shirt of the father-to-be. It looks intimately and gently. Moreover, it will be a pleasant surprise for a partner.
32. Accentuate the Most Important
Take a picture where the main emphasis will be on a woman's belly. It is better to choose the clothing of neutral tones as well as remove distracting details in the background.
33. Mother's Expressive Glance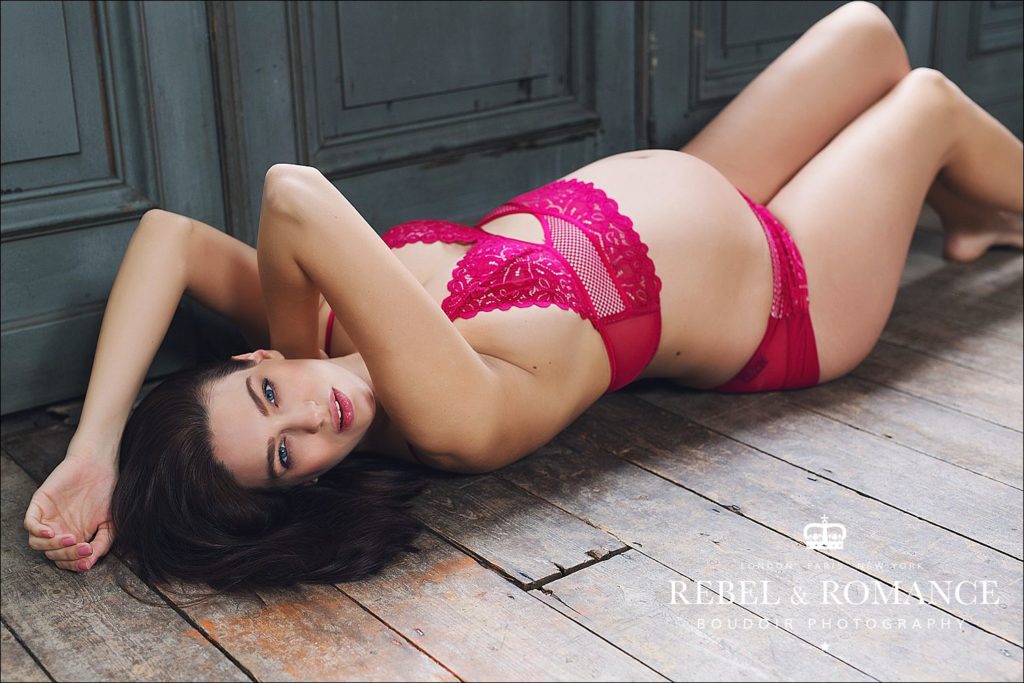 This is one of the best boudoir posing ideas when the model is almost completely naked and her expressive glance and the belly are in the frame. If the woman has long hair, I recommend putting flowers of neutral color in it to make a picture more delicate.
34. Strong and Gentle Father
Encourage a father to a maternity photoshoot for taking memorable shots where the whole family is together. He can embrace the belly, kiss it or hold up a woman.
35. Tender Nudity
If the model does not want to completely undress and show her nude body, then he/she can wear a light see-through dress. This way they can carry on intrigue and don't show more than necessary.
36. Use Husband's Props
Use anything that is related to your man's hobby. If he is fond of sports, take his favorite T-shirt. Or, if he's a big fan of soccer/baseball, use soccer/baseball things as a prop. Does he usually drink his coffee and read the newspaper in the morning?
37. Musical Instruments
This kind of boudoir photo poses is great for those ladies who play musical instruments. It is possible to cover a body with a guitar or ask a model to lay on a piano.
38. Use Masks
Sexual masks on the face will add mystery to the model's look and a photo in general. In addition, if you choose sexy female poses, the photo will become more interesting.
39. "Angel" Props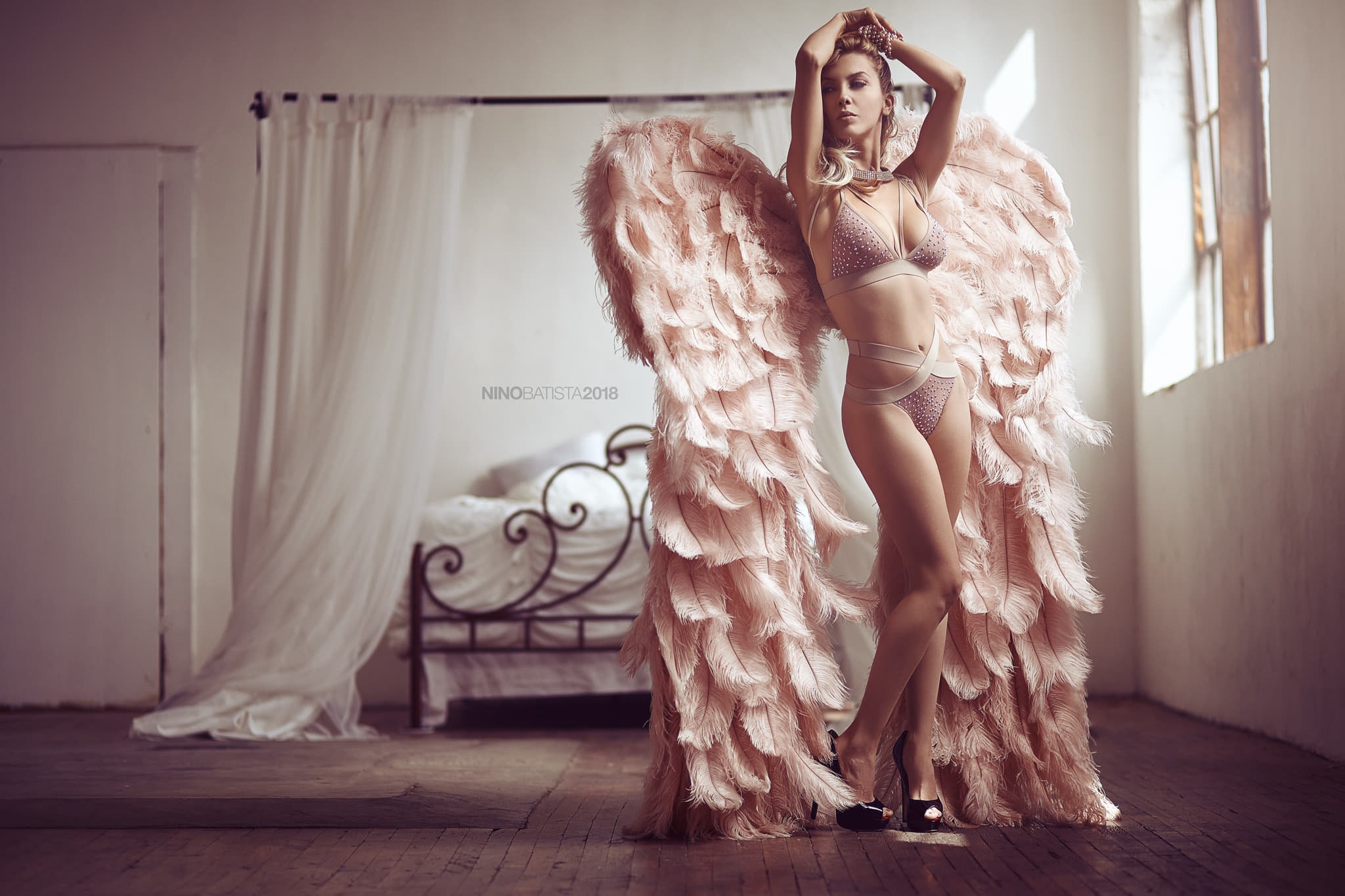 Feathers are light and airy. Large feathers may give an angelic look to your boudoir photo shoot because they add a soft and sensual element to the photo. Angel props are perfect for a boudoir wedding photo session.
40. Fifty Shades of Gray
Include everything that is related to bondage and domination to your photo session. Ankle restraints, handcuffs, masks, riding crop, chains – whatever you have. This kind of photoshoot really shows how wild you can be.