If you want high-quality and elegant wedding dress photos, you should take them in the photo studio. Unfortunately, a lot of brides don't order such photography services. Therefore, you need to learn how to take photos of bridal dress before the ceremony. How to make it well and creative? Here are some interesting ideas for wedding dresses photo shoot and preparation tips.
Wedding Dress Photography Tips
Shooting
1. Take a Wedding Dresses Photo from the Back
The open back of a wedding dress looks appealing in photos. You can also focus on the bride's hair and train of the dress. The bride should bend a little bit in the back to look more elegant. Such photos are very feminine and graceful.
2. Use the Skirt of the Dress
Photographer wanted to emphasize romantic wedding dresses with sleeves placing the girl this way. The bride gently holds the skirt of her dress, showing its beauty. Her back is slightly bent back to demonstrate the fragility and tenderness of the female character. The stylish wedding dress flatters the beautiful bride's stature in this photo.
3. Don't Forget about Props
Don't be afraid to take too many wedding photography props. Everything can be used to realize your ideas. It's easy to take a vintage photo frame, a flashlight, a good wooden hanger and other accessories. For instance, you may use a hanger to take a picture of the dress before the wedding. The most essential thing for a photo of a wedding dress is a clean white sheet. Not every bride agrees to risk getting her dress dirty to take a picture on grass.
4. Open the Bride's Veil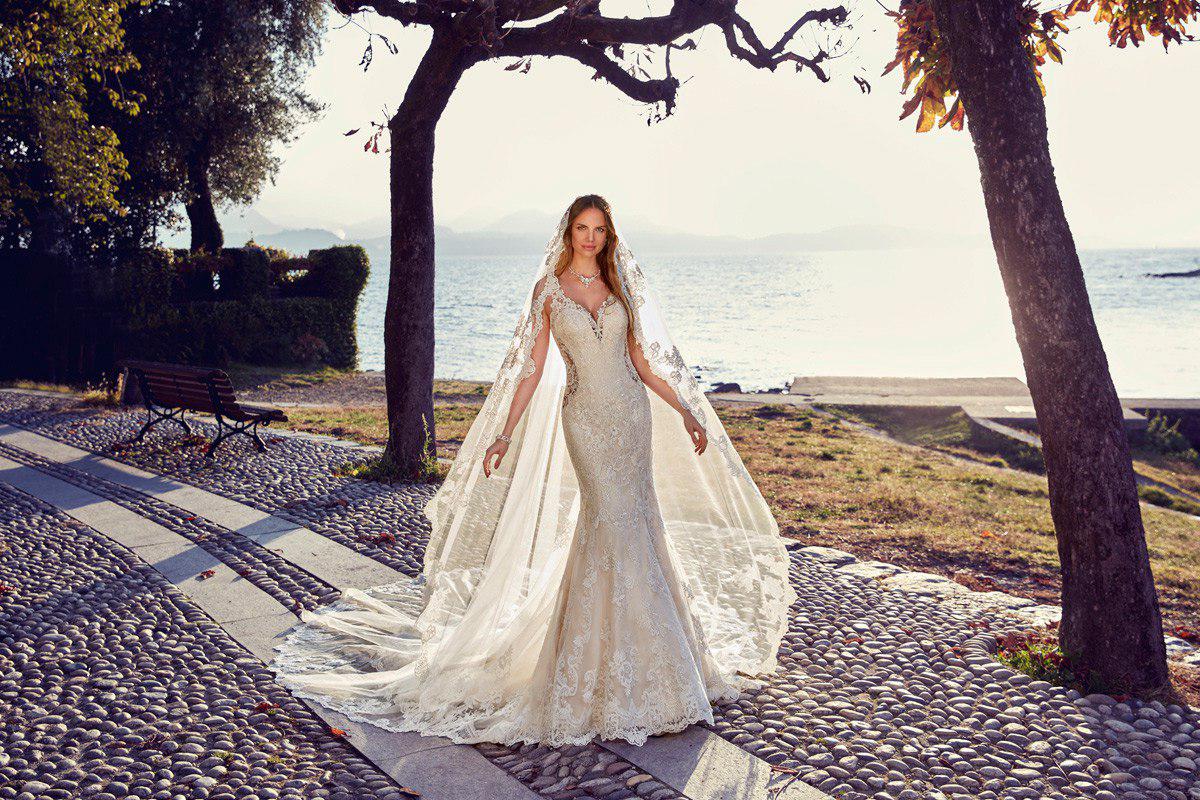 This wedding dress photo was taken by a Los Angeles photographer, Michael Anthony Photography, in The Neighborhood Church. A veil was a source of inspiration for a wedding shooter. If the weather permits, stretch the veil in width and length. You will need several assistants. For example, you can ask the guests to help you. They should lift the ends of the veil. This will give you a chance to take a beautiful photo of the wedding dress. I am sure that the efforts are worth this amazing result.
5. Wedding Dress on a Hanger
Photos of wedding dress on the hanger with to the bride gently holding it, remind how all the preparations began. You need to prepare a hanger in advance and arrange the wedding dress beautifully on it. This photo is very typical for wedding photo shoots, but there is definitely something special about it. You can decorate the hanger with ribbons, engraving or the inscription with the bride's name, or the date of the wedding.
6. Bridesmaids before the Wedding
Take a picture of the bridesmaids in a straight line, placing the bride in the middle. Morning wedding dress photography is the most popular idea while everybody is getting ready. Photograph the morning of the bride and her bridesmaids at all the stages of their preparation with stars in their eyes waiting for the wedding. It is advisable to make such a photo before and after the wedding. So, that the effect of the girls' transformation will be noticeable. Do a special emphasis on the wedding dress.
7. Wedding Dress from All Sides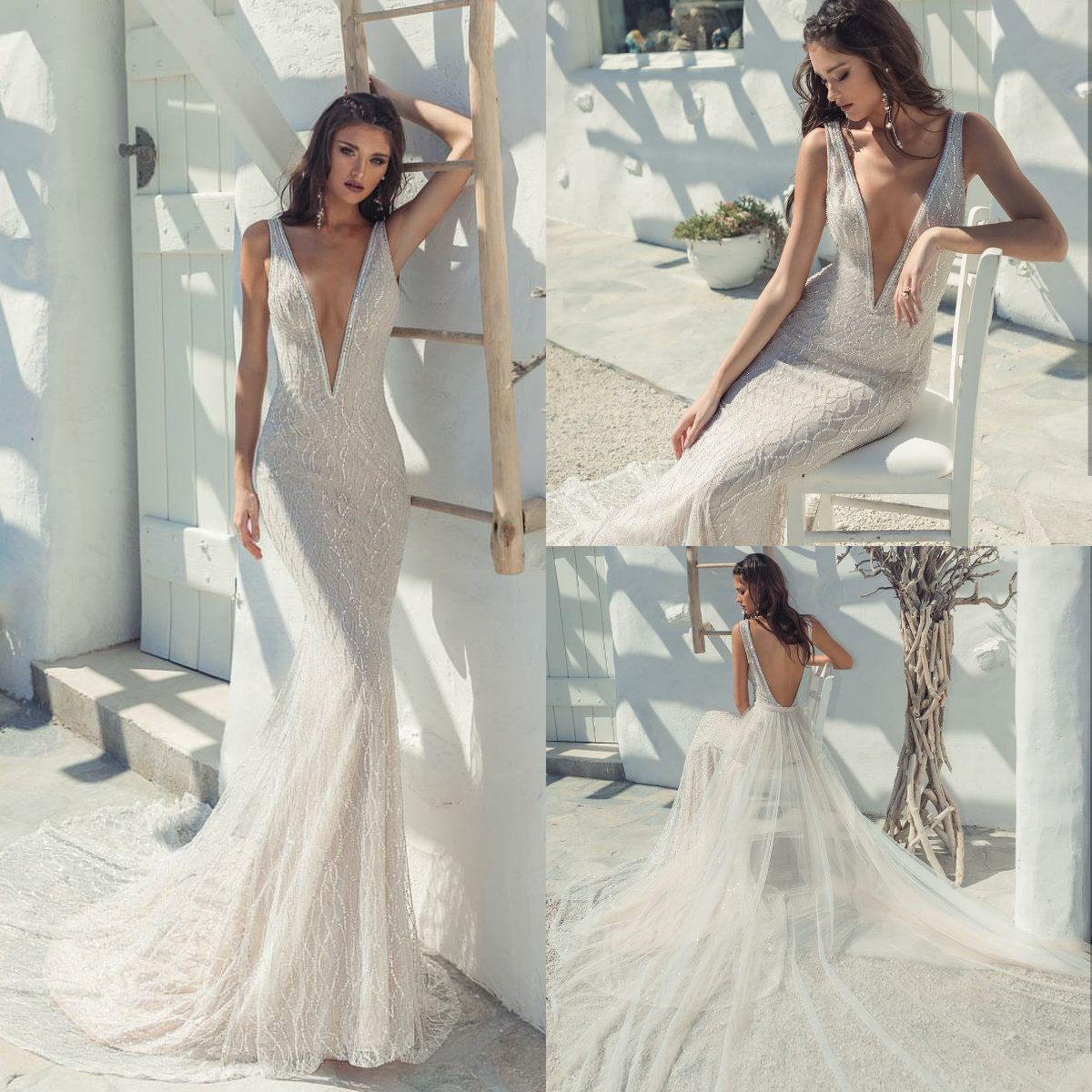 Try to take a few pictures of bridal gowns when your model is standing to fully show the outfit: front and back. Be sure to attach the train, if there is any. It will add elegance to the wedding dress. Photos with a bride sitting will look best as a waist portrait, but if you have a great background, then full-length pictures will be nice too.
8. Photo of a Wedding Dress with a Bouquet
Include to your wedding dress photography a picture of a bride with a bouquet in full-length or a close-up. The bouquet is a very important attribute of the wedding day, like rings and a dress. Together they fully reveal the atmosphere of this day. The bouquet adds a good mood to a photo, as well as a smiling bride.
9. Focus on the Train of the Dress
If the wedding dress has a luxurious train, it is a great opportunity to emphasize the pomp of the outfit. Take pictures of the bride's full-length dress, spreading out its long train and smoothing out every fold. So, it will look beautiful in the photo.
---
Professional Wedding Tools for Easy Photo Editing
---
10. Try to Capture the Wedding Dress in Motion
It's easier to realize this wedding dress photography idea in a studio. You need two light sources: a constant and a flash. You will create a blur with constant light and then "catch" the bride using a flash. It's better to use only a long shutter speed (1/4 is enough). You need to move the camera to the side in order to get a similar image. This effect can be also achieved in Photoshop, but it will take more time.
11. Pictures of Beautiful Wedding Dresses in the Studio
Professional photographers very often prefer a studio photo shoot to take beautiful images of a wedding dress. This usually doesn't happen on the wedding day, so the photographer has a lot of time to choose the best poses for a bride. In this picture, she poses as a ballerina, which adds to her fragility and tenderness. The skirt of the wedding dress looks like a ballet tutu.
12. Capture Sincere Emotions
Capture the bride's laugh, smile, or other feelings while taking wedding dresses pictures. Such wedding photos are always very touching and realistic though it isn't very easy to take them. Don't try to make the bride laugh, just wait for the moment when the smile appears on her face. She has many happy moments on this day, so you will definitely have time to catch her positive emotions.
13. Get Ready to Photograph a White Dress
Experienced photographers know how challenging wedding dress photography may be. Get ready to take pictures of a snow-white dress, which seems darker in a photo. You can avoid such problems by setting up your camera in a proper way. You should use a little positive exposure compensation.
14. Use Natural Light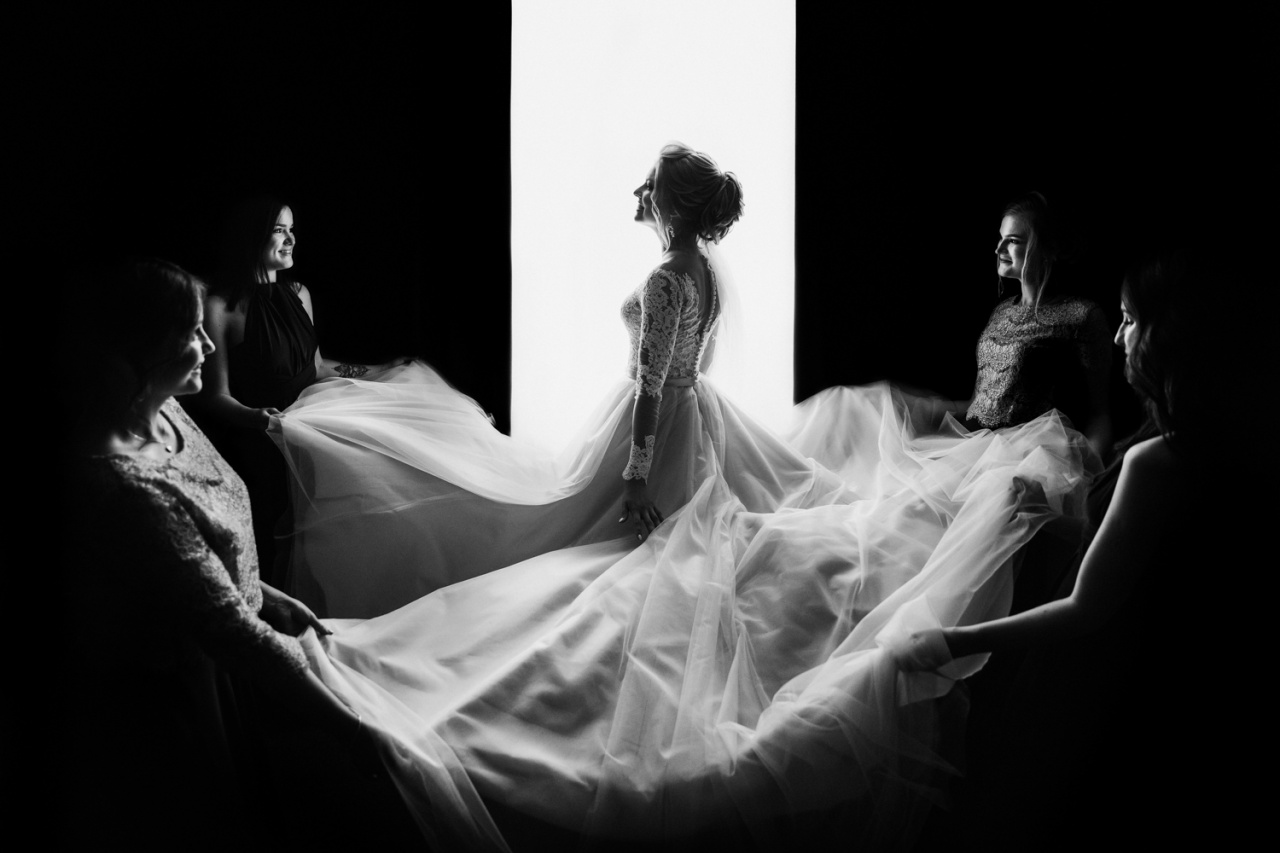 You need to turn off the flash to get natural photos. Try to photograph in the morning or in the evening, because the middle-day sun can be too harsh. You can also use the light at sunset that is not so easy to catch, but which looks really beautiful.
15. Follow the Trends in Wedding Dress Photography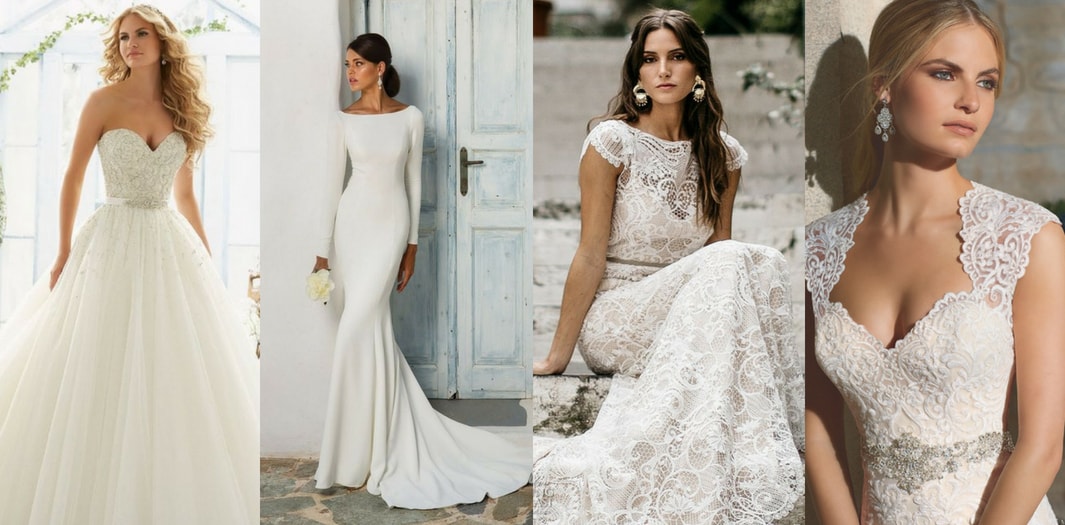 Be ready to communicate with other photographers and wedding dress designers. It gives new experience and inspiration for different creative ideas. Look also in the photo-blogs of the best wedding shooters. It will help you follow the fashion trends and find new techniques. Professional wedding photographers can always surprise you with something unusual.
Creative Ideas for Wedding Dress Photography
16. Wedding Dress Photography in Smoke
Wedding photographers often use smoke bombs for their shots. Do you like this idea to photograph a wedding dress? The result is stunning, as the background becomes blurry, and the bride's dress attracts all the attention. You should set up your camera in advance, as you don't have much time to get the effect. Or you can download free Photoshop smoke brushes to add it while photo retouching.
17. Photograph of a Wedding Dress in an Ancient Castle
This photo reminds a fairy tale. The thoughtful and mysterious look of the bride, ancient candlesticks and other decorations give the dress a magical view. A similar photo can be taken in some museums with a similar interior. Find a beautiful place before the photo shoot, as it's your chance to take incredible wedding gowns photos.
18. Wedding Dress Photo against the Background of a Similar Color
Why not use a classic style? There are no additional props, except for the background. The photographer took the fabric of the same color as the bride's dress. It is a great idea to emphasize the color of the wedding outfit, as well as all its shades. As a result, the wedding dress looks much more spectacular and elegant.
19. Photograph of a Wedding Dress from Above
A staircase or a second floor is a perfect location to shoot a wedding dress from above. You can spread out the skirt on a round surface, as in this photo of a bride surrounded by flowers. The bride looks as like cone, which emphasizes the pomp of the skirt of her wedding dress.
20. Discuss Your Wedding Shots with a Couple
The most important rule is to discuss the photo shoot in advance. Otherwise, you won't be able to plan the process. For example, you don't know that the bride wants you to capture her wedding preparations: the dress before putting on, the process of applying makeup and hairdressing. Remember that many newlyweds are waiting for ideas from the photographer, and are embarrassed to discuss exactly which photos they want to get. The list of photos may seem obvious to you, but the couple feels confused. Help them to express their preferences. It's a good idea to talk about the location, time and other details of the wedding dress photography. You must have a precise plan. Don't also forget to sign an agreement or contract. You should specify the payment and what exactly is included in your services. It is important to mention the deadline for your work in order to avoid conflicts and misunderstandings.
21. Check the Location in Advance
If the wedding photoshoot will take place in a location that is new to you, then you need to visit it in advance. Pay attention to nature, light and other details that will be necessary for your work. Preparation is the key to success. If you photograph a wedding for the first time, you can take a couple of your friends to the spot and try your creative ideas. The wedding passes very quickly, so you need to prepare carefully not to miss the moment and have time to capture everything that you want. Think all the nuances over.
22. Check Your Photo Equipment
The most important tool for the wedding dresses photography is your wedding photography gear. Therefore, you should prepare carefully and configure your camera. It is necessary to take: spare batteries (<3, depends on your camera), charger and new memory cards (~ 100 GB). You don't know how many pictures you will take. You should also think about a backup plan in case of emergencies. It is better to take two cameras with different lenses. So, you don't need to reconfigure your camera for a close-up or long-distance photo. This will help you save time and take photographs at the right moment. If you have one camera with a 35 mm lens and the other with an 85 mm lens, you can quickly get two different photos from the same place.
23. Do Your Job on Time
Timing is very important both during the wedding photo session and after it. You may have to spend lots of time processing wedding dress pictures, but try to send photos to the newlyweds within the agreed time frame. If you don't have time to finish all your work, then send the ready part. Thus, the couple will see that you do your job and they will calmly wait for the rest of the pictures. Before completing the process, make sure you have done everything you promised and explain if something went wrong. After all, the quality of your work affects your success and reputation.
24. Have an Assistant
You can invite a second shooter to help you catch the right angle. You can take pictures of the scenery and details, and your partner can control the wedding ceremony and other activities. This can be done even for free. Find a suitable partner on a wedding photographer forum and offer a win-win exchange. It's also a great way to share experience.
If you can't find an assistant, or you prefer to work on your own, and you don't have a second camera and lenses, then rent a camera. You can also take a cheaper brand with the same features. If you want to use flash, don't forget about a tripod. It can be rented with the camera. But you won't be able to fully enjoy the process, as you will worry about the new camera.
25. Discuss Wedding Dress Styles and Photos with the Bride
Ask about the details of a dress the bride wants to see in the photo. It may be a full-length dress photo, or a picture with the emphasis on the upper part of the dress, with makeup and hairstyle clearly visible. Maybe she wants you to take photos of her veil, or pay attention to her shoes. Clarify all these nuances before photographing the dress. Each woman wants to emphasize different details of her attire.
26. Use RAW Format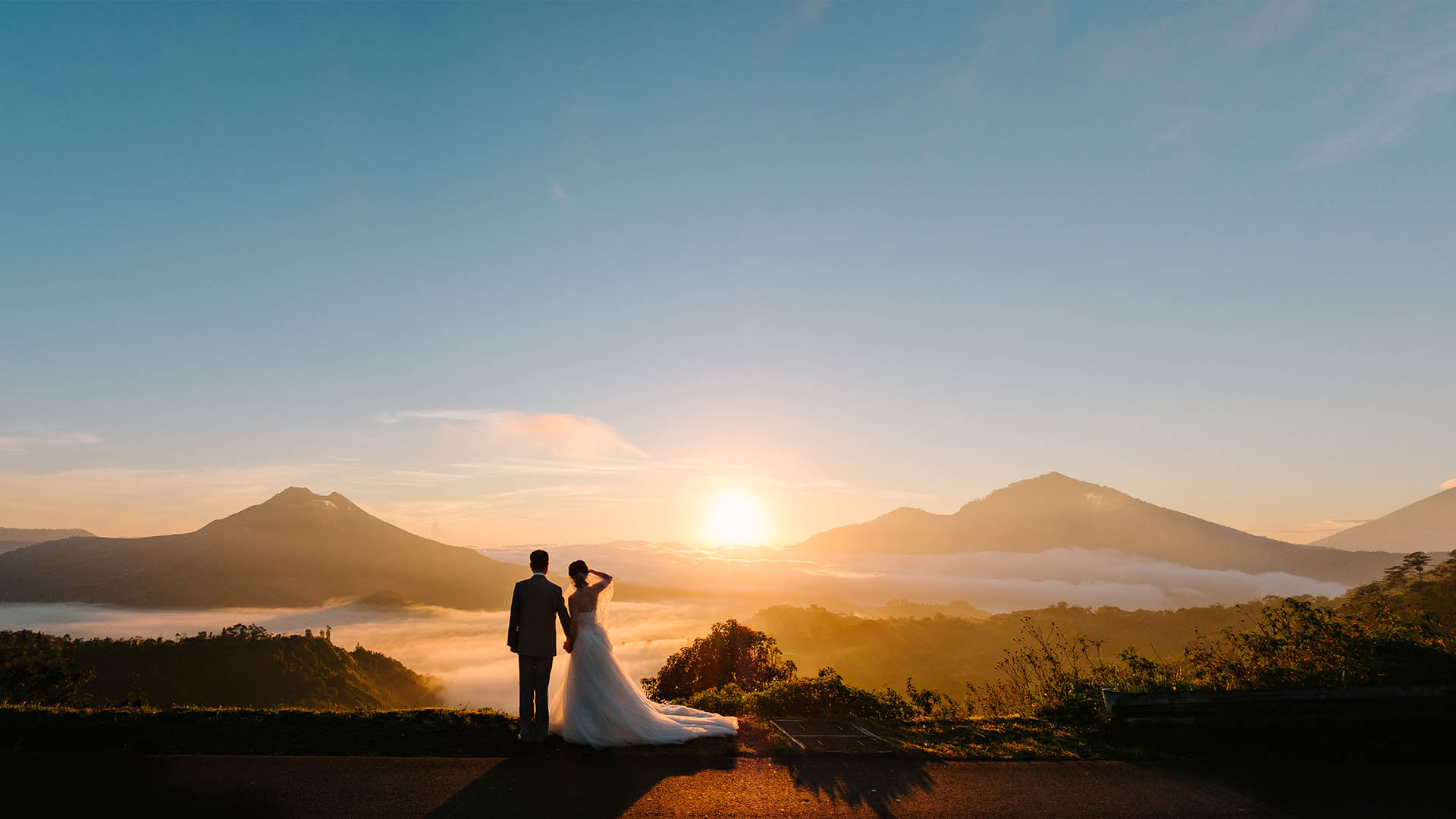 RAW format is very convenient for photo editing, as it is very "flexible". This format allows you to control white balance, exposure and shadows. It is especially helpful if you don't use a flash, which is usually inappropriate at a wedding ceremony. RAW files are large, so you need a memory card with good speed (~ 95 MB/s), as well as a camera capable of quickly recording files during fast shooting.
27. Watch Your Behavior
Check whether you are allowed to photograph a couple in the church during the wedding ceremony. It's better to learn all these rules in advance and try to follow them. Turn off the sound on your camera, if it's possible. Remember that a flash can be inappropriate.
Don't show your fatigue under any circumstances. You must be calm to make the newlyweds feel confident and relaxed.
Don't try to take as many photos as possible because half of the shooting has already passed. The number of your shots is not as important as their quality. Do your best and take only high-quality pictures. Don't enhance them while shooting, edit photos at home.
28. Send Several Pictures Earlier
One of the best ways to surprise newlyweds is to send several photos immediately after the wedding. Surely, you have some pictures that don't require any elaborate editing. They are just waiting for their time. You can send these photos in social networks with a comment about the rest. The loving couple will be happy with such a gift and will be able to share their pictures and advertise your services. The photos evoke the most emotion immediately after the event, when everyone is still full of the joys of spring.
The Best Wedding Dress Photographers
---
1. Cristiano Ostinellidré Website
Location: Italy, Greece, Spain, Austria, France, England, USA, Russia, India, Cambodia, Vietnam, Hong Kong ,United Arab Emirates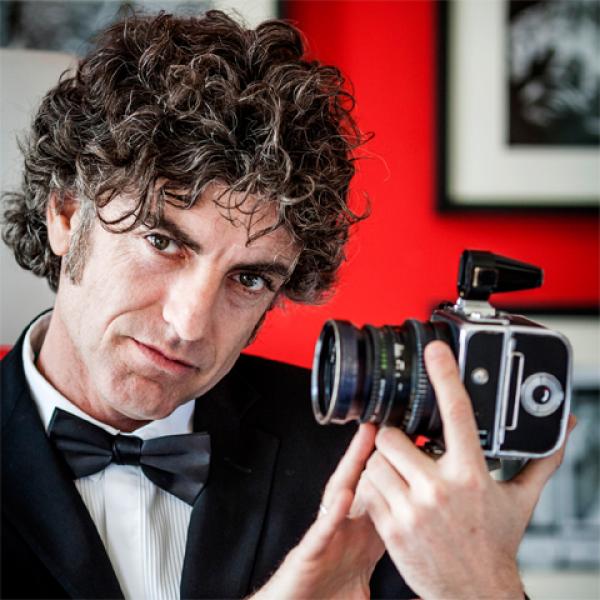 Cristiano takes weddings photos both in Italy and in other countries of the world. He has many different awards for his creativity and professional approach to photo editing. You can find many ideas for images of wedding dresses and lots of inspiration on his website.
Photo by Cristiano Ostinellidré
---
2. Cinzia Bruschini Website
Location: Italy, the United Kingdom, Greece, New York, France, and California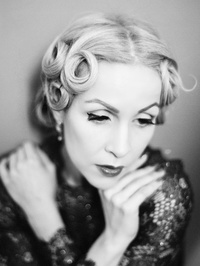 Cinzia Bruschini is a very popular photographer from London, England. She focuses on black and white images. You can find many other interesting shots in her wedding images collection. She is one of the world's best wedding photographers in Harper's Bazaar.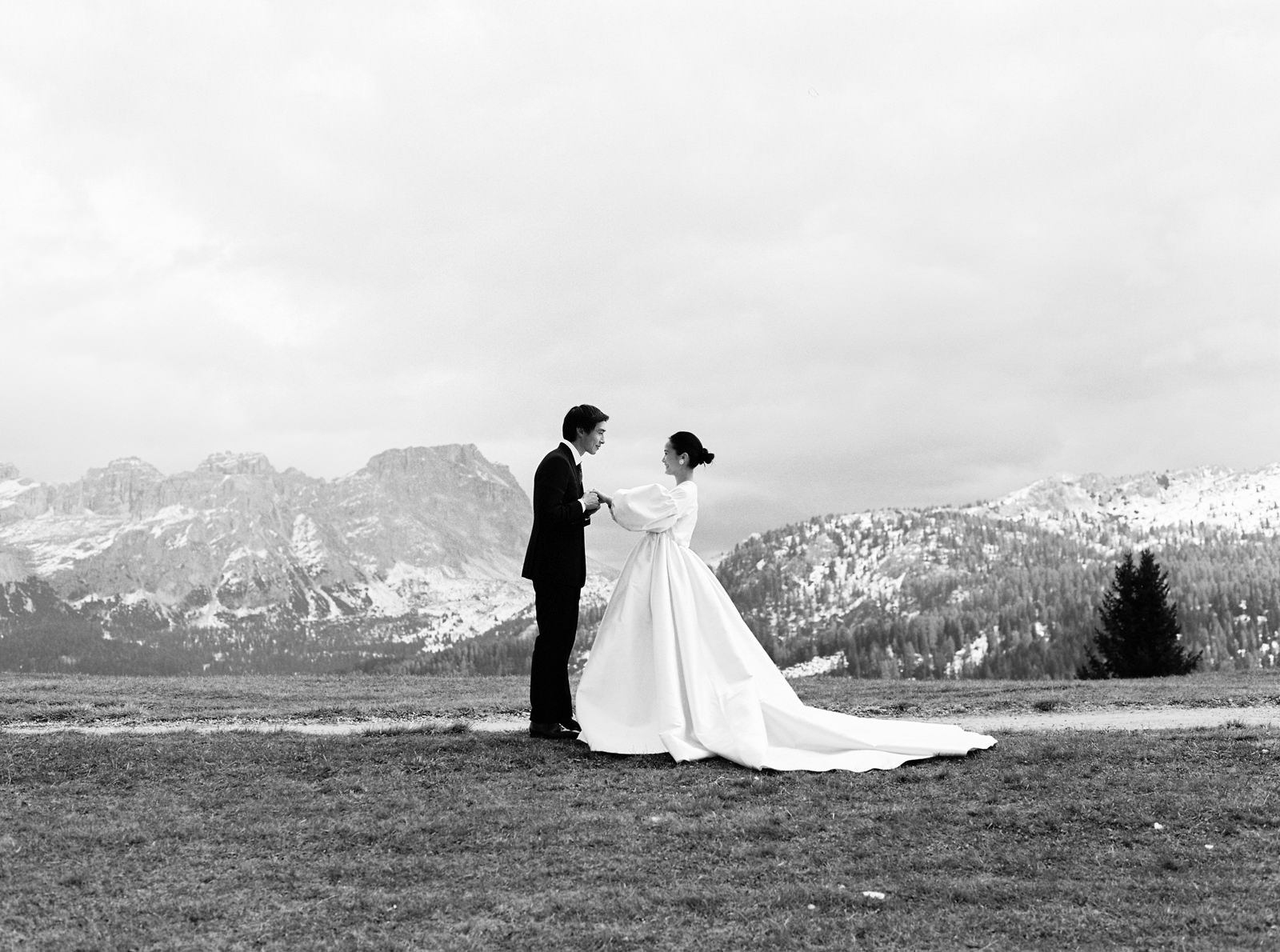 Photo by Cinzia Bruschini
---
3. Citlalli Rico Website
Location: Cancun, Mexico
This photo, as well as many other works of Citlalli Rico, received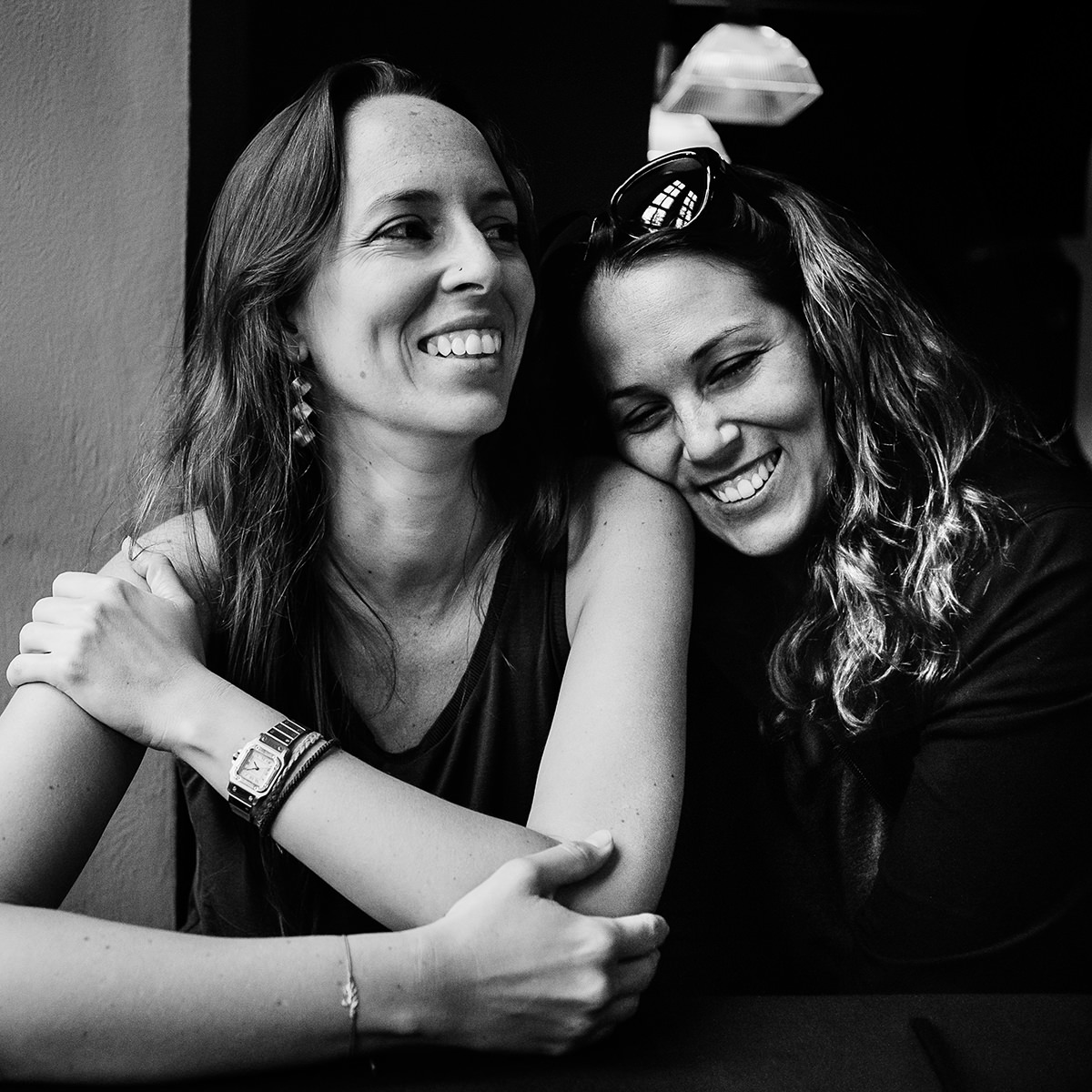 FEARLESS award. The photographers – Citlalli and Tamara come from Cancun, Mexico. They inspire with extraordinary photographs of wedding dresses, and gladly share their professional experience at photography workshops and lessons.
Photo by Citlalli Rico
---
4. Catalina Jean Website
Location: Portland, Oregon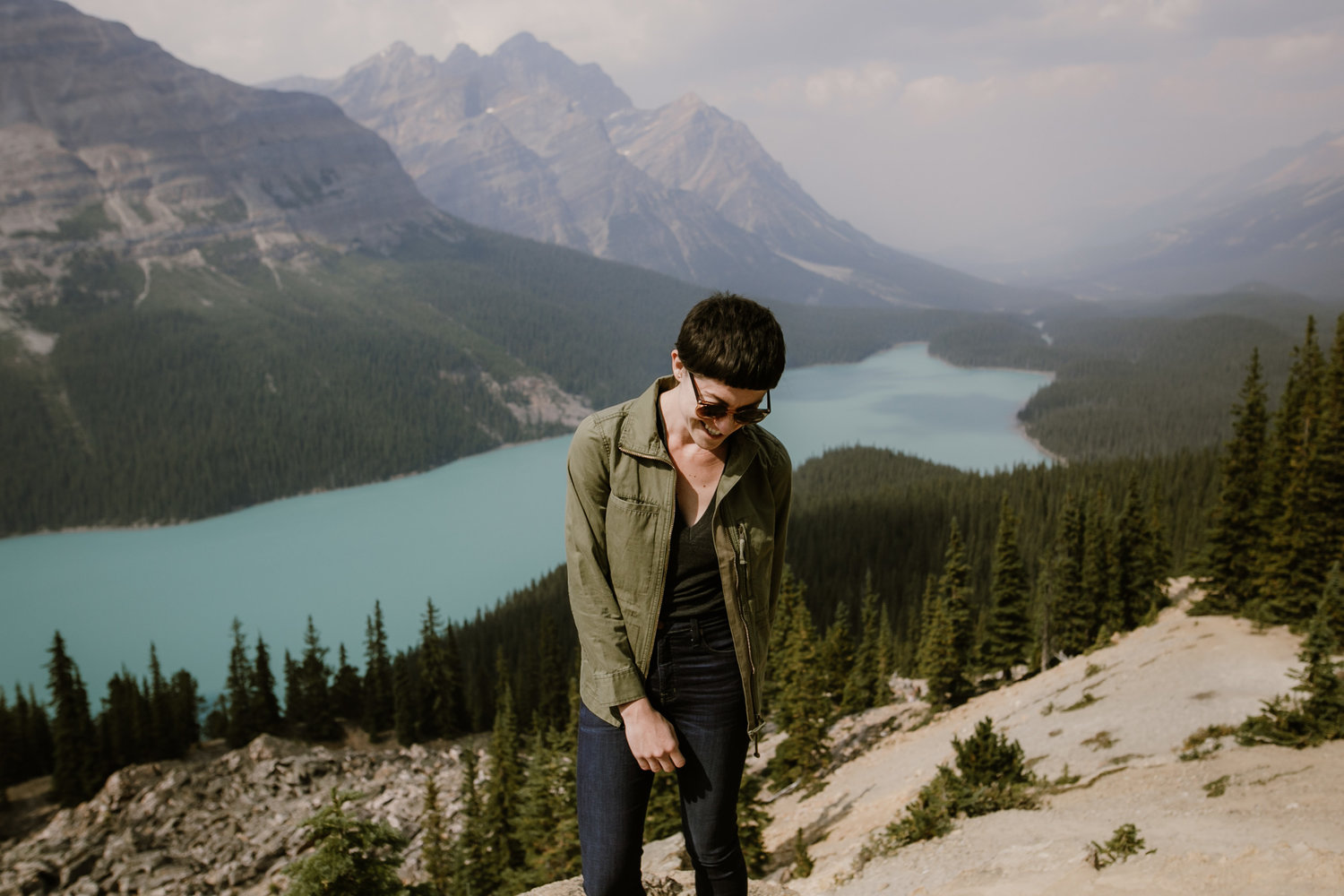 Catalina notices every detail of the wedding photography. She takes photos of the bride's dress at the beginning of the day, when the soon-to-be-wife puts it on and all tiny details. For example, here you can see one of her wedding gowns pictures with sleeves. Now she lives in Portland, USA, but she loves traveling to get extraordinary wedding photos. If you like such detailed photo session, then go to her website.
Photo by Catalina Jean
---
5. Audrey Neracoulis Website
Location: France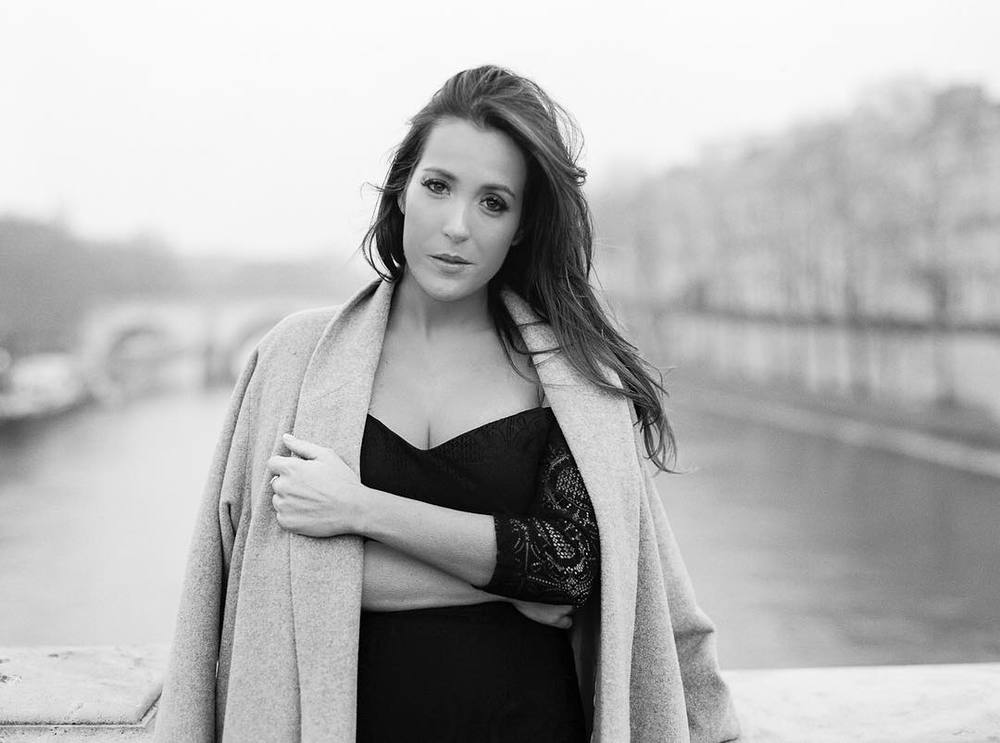 Audrey is from France and likes to take romantic pictures. She creates photos on the verge between fashion and classic. This approach made her famous among Parisians and even the entire world, thanks to print and online publications in Glamor, Vogue, Brides Magazine and Style Me Pretty.
Photo by Audrey Neracoulis